How To Choose The Best Software Development Company Available
Software development has become an integral part of almost every industry. Whether you're a startup or an established company that needs a software update, finding the right team for the job is crucial; Why? The right team will be able to see your vision and bring your project to fruition. But how do you find the company that will perfectly align with your values and meet your needs in a highly-competitive, fast-evolving market?
This post will help you navigate the complex landscape of software development by showing you how to properly evaluate your project, vet inadequate companies, communicate with potential partners, and hire a software development team that won't let you down.
If you prefer a professional consultation, we invite you to contact us, as it'll be our pleasure to consult you on the matter.
How to Evaluate Your Project
Properly evaluating your project by outlining goals, objectives, expectations, timelines, and other crucial factors will help you communicate with software development companies and ensure that your potential partners meet your goals and needs.
Size, Complexity, and Features
The size, complexity, and potential features of your project are the primary project evaluation factors. Are you building a sole software, a website, maybe an app, or all of them combined? The complexity of your project and the number of its features will help you determine the size of the team that you need to hire, as well as help you set a rough budget range for the project.
Scalability
Contemplate the scalability and future needs of your project. Your future software development partners should be able to handle your growth, update your product, and provide maintenance as well as support; this is crucial. – Looking for a third company to fix bugs and correct any issues that may arise later down the line can get messy.
Considering scalability and future needs is especially important for larger projects.
Timelines and Deadlines
Depending on the size, complexity, features, and scalability, try to determine a rough timeline for your project. Understand that you'll need to sacrifice on either quality, time, or cost, and that most usually it's best to sacrifice on time. A longer timeline and looser deadlines will ensure that your product comes out just the way you envisioned it. Still, make sure that the software development company can keep itself accountable.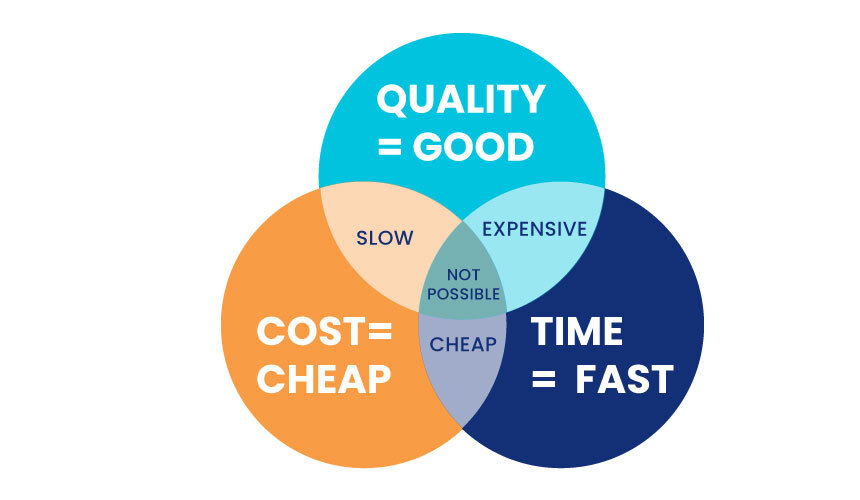 Always keep Hofstadter's Law in mind which states "A project always takes longer than expected" and other principles of productivity.
Project Budget
If you have a pre-set budget, you'll need to work around the features, scalability, or timeline of your project in order to meet your budget. But if you're set on the project, take into account the complexity, scalability, as well as timeline, and come up with your own rough estimate of the development price.
Good Vs. Bad Software Development Companies
Your project depends on the software development company you hire, so choose carefully. However, separating the good from the bad isn't as difficult as you may think.
Which Services Does The Software Development Company Provide?
Checking to see whether the company provides solutions that you need is the first step of the vetting process. Here are a couple of questions that you should be asking;
How many developers can work on your product, an entire dedicated team or only one single developer?

Does the team have chemistry or is it made up of multiple individuals who haven't worked together before?

Can they develop solutions from scratch to finished products?

What are their specialties, software development, mobile application development, websites, quality assurance, digital platforms, or UI development?

Can the company create marketing content that'll jumpstart your marketing efforts?

Does the company offer scalability, maintenance services, and technical support?
Tailor the questions above to your own project, be direct and upfront with your potential partners, and listen carefully to their responses.
How Does The Company Present Itself?
The often overlooked step of researching and evaluating how a company presents itself in the market can provide invaluable insights. Start by examining the company's products for security, design, and efficiency. Then, browse their website to gauge its functionality and aesthetics, looking for a well-designed, user-friendly interface.
Social media platforms and blog posts provide additional information on the company's usage of the newest technologies and follower engagement, which can serve as a reflection of their communication abilities.
Do They Have Quality Case Studies?
Case studies are an in-depth look into how the software development company you are researching faces and overcomes problems. Complex issues are bound to arise during the development of your product, it's important to know how the company handles them.
It might be a bit daunting but browse through case studies in detail, as you'll find plenty of useful information. Keep in mind however, that software development companies often sign NDA (non-disclosure agreement) contracts, so it's best to reach out to the company directly and discuss your project.
Can They Effectively Communicate?
Today, the barriers of distance and language have become less common, but it's still best to check whether the company speaks English, as well as their time zone, and whether or not they'd be able to accommodate you if your time zones don't match. – Most usually, if they create content for their web and social media in English, you should have no worries.
More importantly, pay attention to their ability to listen and understand. If they aren't able to answer your questions in a direct and simple manner or provide explanations that solve your concerns, how are they going to handle your more complex requests? That's why it's important to find a team that can listen to your ideas and transform them into high-quality products.
Choosing and Hiring The Best Software Development Company
Choosing the best software development company available is a critical decision that often determines whether your project fails or succeeds. Don't be afraid to take your time and conduct thorough research, assess different companies, and only then make an informed decision on your software development partners.
At Fourity, it's our mission to innovate and build secure, scalable, and efficient products. We'd be happy to share a couple of industry secrets that'll help you make the right choice, so don't hesitate to contact us.